If you are planning to buy Pakistani dresses of big brands like Sana Safinaz then make sure you have enough money in pocket to bear the expenses. Pakistan is the biggest market of garments with having cheap and expensive outfits available. If you want branded outfits with heavily embroidered work done they keep in mind the budget up to 1 million Pakistani rupees. If you are budget conscious and would like to save your money then replica dresses are the best option available. Besides, you could also buy clothes from local markets being manufactured locally.
Actually, there is a misconception that all the famous brands of Pakistan have been manufactured outside or by big industries. All the brands you see online and offline being manufactured locally in different parts of the country. Some of the brands make their clothes in Lahore while some prefer to have their products made in Karachi. It is the discretion of the company in which the city would like to have dresses made. Take an example of Faislabad. It is a famous city in Pakistan when it comes to lawn and casual wear dresses. You will find dresses in this city even 5 dollars. But the quality of the fabric is not what is being promoted online.
Sobia Nazir
Certainly, Sobia Nazir dresses are expensive when you are looking for casual wear. But, when it comes to the quality of her dresses, she outsmarts everyone. She is not only using her best skills but also trying her best to have wonderful quality of products. She is using finest quality of lawn fabric. And, she is the best digitally printed clothes seller in the country. Following her skills and methodologies, Asifa Nabeel brought innovations to next level.  She has introduced a 3D style of prints and embroidery on the clothes. What to speak of digitally printed clothes being sold by Asifa Nabeel. She is the best designer when it comes to digital prints.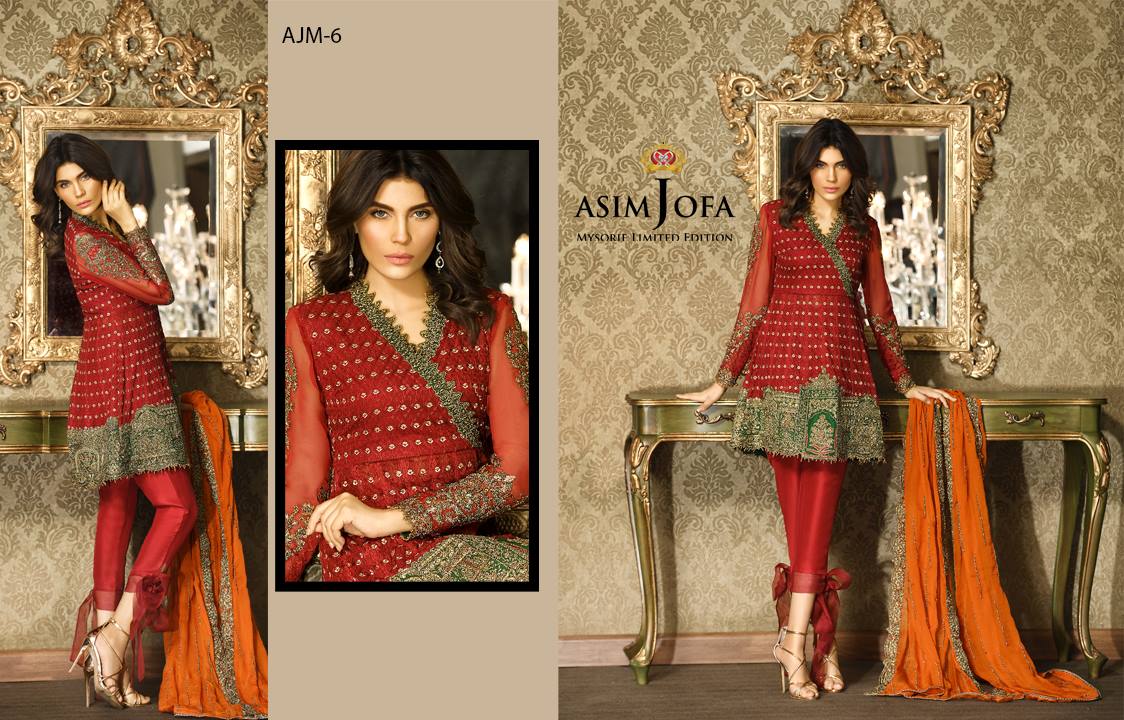 Asim Jofa
Apart from this, the dresses of Asim Jofa are also expensive and each dress would cost you 15 thousand Pakistani rupees which is the average wage of Pakistani employment market. Secondly, his wedding and party wear dresses are way behind affordability. Some would cost you 500 dollars while some would cost you 5000 dollars. Considering the growing demand in the fashion industry, this brand is only targeting wedding dresses and has also been successful in selling party wear dresses.
Costs of Sana Safinaz and Other's
Besides, the dresses made locally for a wedding are also costly. The average cost of a wedding dress is 300 dollars if you are looking for bridal wear dresses. Pakistan is a culturally rich country and when it comes to fashion there are a lot of myths prevalent in different communities. Some communities have color problems and some believe dresses should not be too much exposed. There are some religiously sensitive elements who do not like this and always talk about this problem in family gatherings.
but the rapid innovations and growing IT changes in the country, globalization have deeply penetrated the hearts and minds of the people. They have started questions about the myths people have made in the name of their community structure. And, they are also politically and intellectually liberated. Moreover, they do not believe on the culture rather they like what technology appeases them. Even though they adopt the growing fashion trends due to rapid fashion updates coming on Instagram.
The average cost of the different brands is literally a difficult and daunting task. But, the prices of some brands could be determined as follow:-
Maria b – Average Cost 10,000 to 30,000
Asim Jofa – Average Cost 13,000 to 40,000
Agha Noor – Average Cost 10,000 to 25,000
Annus Abrar – Average Cost 50,000 to 300,000
Sobia Nazir – Average Cost 8,000 to 30,000
Asifa Nabeel – Average Cost 8,000 to 30,000
Zainab Chottani – Average Cost 20,000 to 90,000
Erum Khan – Average Cost 10,000 to 20,000
LALA Lawn – Average Cost 1,000 to 3,000
Kurtis – Average Cost 1,000 to 3,000
The above is the well researched average prices of various brands. Despite the above-mentioned figures, the products are being sold like hot cakes in the markets. It is said that most of the designs of the above-cited brands go out of stock in just one month. However, they come with new collections every season and sometimes they restock the products due to growing demand in the markets. Certainly, the geolocation of famous brands is not Pakistan. They sell everywhere in all markets of the world. And Muslim communities living abroad love to buy Pakistani dresses. It is said that the second biggest market of Sana Safinaz and other Pakistani brands in UAE. In middle east Pakistani clothes are also sold rapaciously.