Pakistani Women love to look beautiful on the eve of their weddings or engagement. To them, the biggest event of life is a marriage ceremony however they buy very expensive dresses to enjoy their life. Secondly, Gul Ahmed is a famous brand in Pakistan. This brand has been producing finest quality of fabric for the past many decades. There is not a single lady in Pakistan who does not have knowledge of this brand. It is said that every woman of the country has worn clothes of Gul Ahmed and it has been years that this brand rules in the market.
Tips for Engagement Dress
It goes without saying that there are plenty of styles to wear on the wedding or engagement ceremony. Some women love to have long maxis worn while some prefer peplums and frocks. It is true that most of the women in the country wear heavily embroidered dresses that have stoning work done on the clothing. Some prefer to have dresses of brands and some go for hunting in the local markets. It is the reason that replica of dresses has significantly increased and most of the women of the country now look for beautiful and better dresses in reasonable and cheap prices.
But it does not apply on all women. Some girls love to wear what is famous irrespective of the fact that how much they are being charged and what are the costs of the product. They just look at the ongoing fashion trends and boom. Obviously, when you have money and affordability is not the issue, you could buy anything you wish for. And, this methodology applies well on the women of Pakistan.
Needless to mention that most of the women and girls envy each other. They compete with each other when it comes to styles and sense of fashion. If a girl is wearing an outdated style of clothing, the modern girl would not even look at her with the sense of superiority generating in the mind. This is very common and it generates a lot of business for the companies introducing clothes. Certainly, it is a kind of marketing that brands to significantly increase sells and make money.
Apart from this, there is another culture in the society of Pakistan. Most of the families get their daughters engaged with cousins. It is a very common culture and pupho ka beta or Pupho ki beti is the most taunted phrase being shared on social media. It means the sister of brother would get her daughter or son married with the children of her brother and this practice is quite old and widely prevalent in the entire country. Secondly, some communities also exchange their daughters with each other and adopt give and take the formula to ensure that community rules are followed.
And in those marriages taking place in villages and small cities of Pakistan does not much spend-thrift. People of rural areas believe in saving money and they do not waste their money on clothing. However, they buy affordable and cheap clothes. And, the local industry does not only fulfill their need but also help them to get the event done in cheap prices. The average price of wedding dresses in rural areas is hardly 30 dollars and it is considered to be the best outfit in the area.
On the contrary, the girls and women living in urban areas do not look at the prices. They want to compete with other girls and would like to buy expensive dresses. However, they buy very expensive outfits. The most expensive dress for engagement is a gown or full flyer maxi.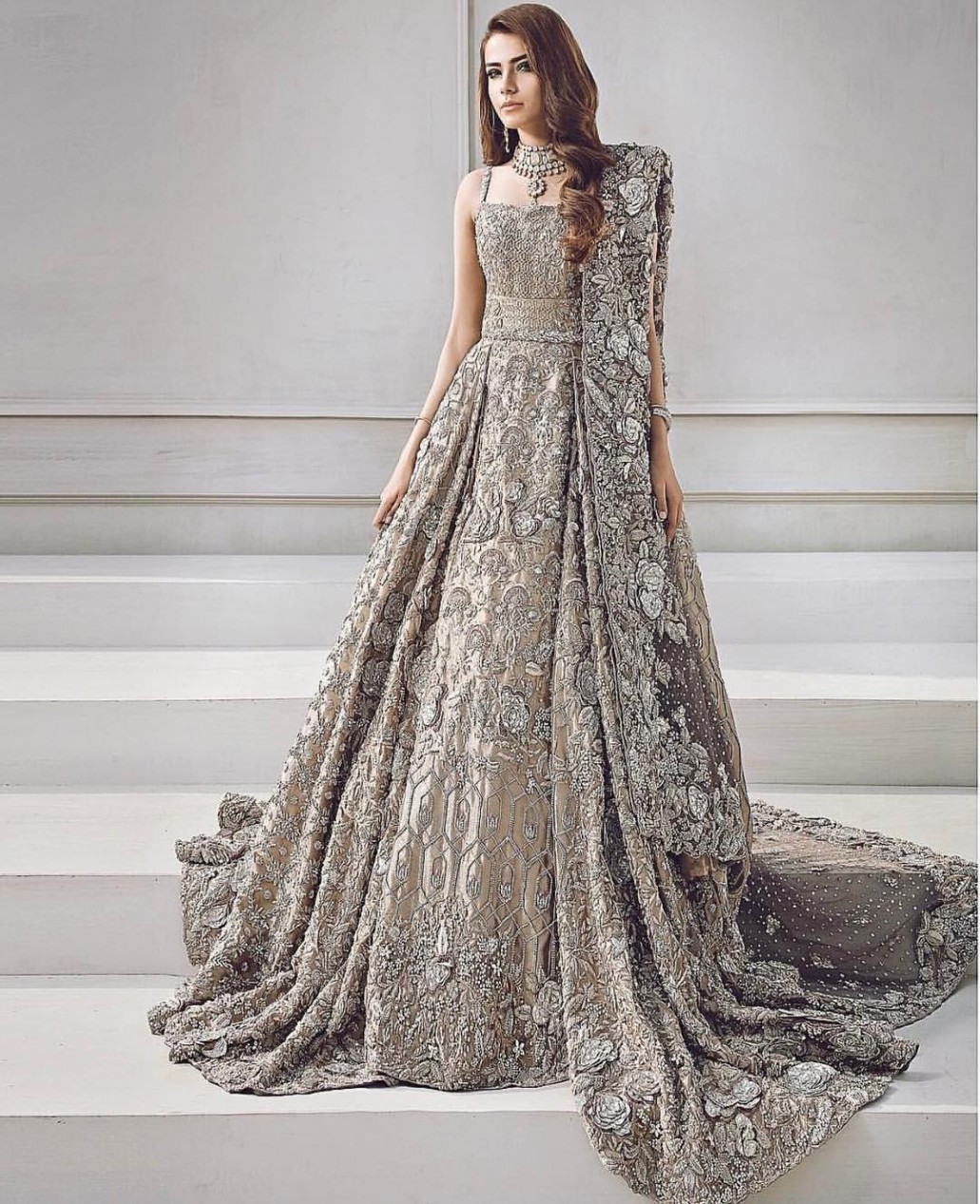 Needless to mention that clothing is the biggest industry in Pakistan. There are more than 100 million women in the country. All the products made for women are being sold very fast in Pakistan. Basically, women of Pakistan love to do shopping.  After completing the household chores the second thing they do is shopping. It is the reason the eCommerce industry of Pakistan is ballooning and the average shopping rate is 30 thousand buyers in the country. According to a report provided by logistics companies of Pakistan that there are more than 30 thousand daily shippings related to fashion and all of them being traded inside of the country.
Zainab Chottani Best in Wedding Collections
When it comes to fashion, the dresses of Zainab chottani are the best for engagement and wedding. Since the engagement is one of the biggest events occurring in the lives of women, the cost of Zainab chottani bridals looks handy. It is said that the average cost of ZC collection is one million Pakistani rupees and despite this hefty amount of money, women love to buy. Secondly, maria b dresses are also good for engagement and could also be used if someone is from a middle-class background. Obviously, if money is the issue, the best way to buy engagement dresses in local markets.